Are you drowning yourself with tasks and need help organizing your meetings and events? Look no further, our collection of the most popular calendar apps are here to help you keep track of your time and duties. As busy working bees, we all know that staying on top of schedules and deadlines can be overwhelming but one of the most important parts when doing business or working with clients. That's why having an easy-to-use calendar app is crucial for anyone trying to plan out their days and stay organized. From prioritizing important upcoming tasks to getting reminders of events at just the right time – a good calendar app can make it much easier to stay on track. We'll go through some of the best calendar apps available on the market so that you don't have to sweat over your schedule anymore and let technology handle it for you!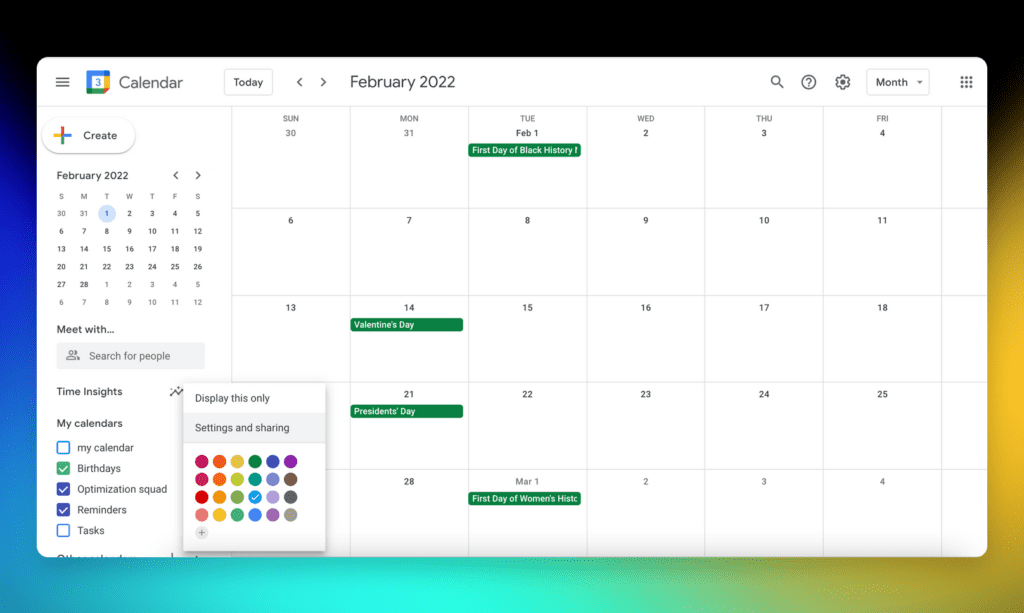 Simplify and organize your schedule with one of the most popular calendar apps
Google Calendar is one of the most popular calendar tools on the market. It's connected to so many apps, including your Gmail account, and allows you to easily add events or tasks right from the interface. Its user-friendly design makes it easy to use and with its powerful features like reminders for upcoming events and meetings, Google Calendar helps make sure everything is on track. With its powerful customization options, such as creating multiple calendars for different occasions, it's truly a great way to prioritize and make sure that the most important tasks are done on time.
"Fantastic app that does not require external installation as it comes ready to use with gmail account. Overall very intuitive and easy to use for new users. Far more easier to use than competitors." via Capterra
Google Calendar Features
It's a google product, so it integrates well with other apps
It's easy to use and the interface is visually stimulating
The calendar has powerful features like reminders for upcoming events
You can customize multiple calendars for different occasions
You can easily collaborate with your team using Google Calendar
Google Calendar Pricing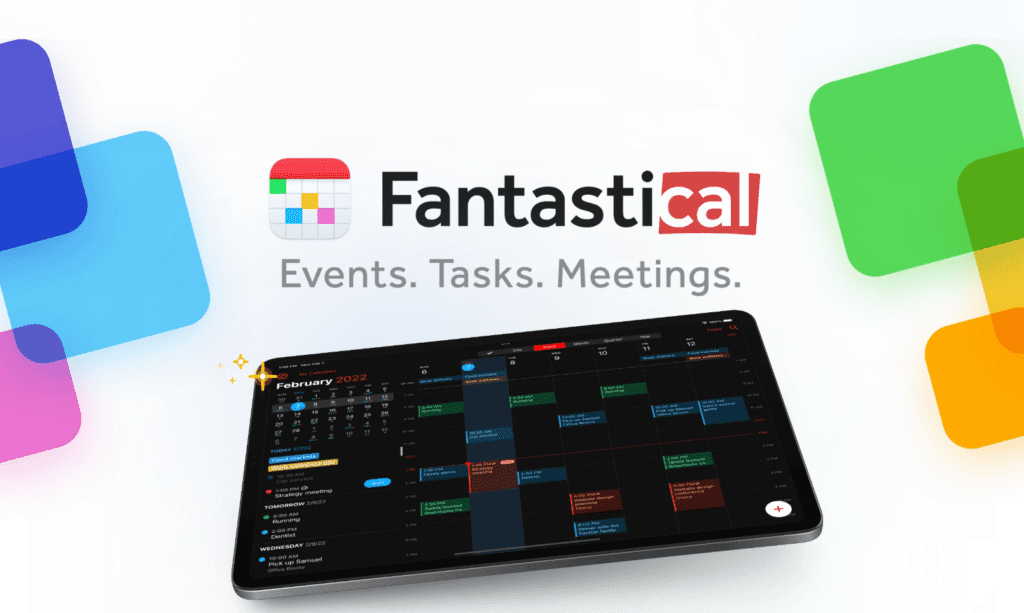 A powerful and feature-packed calendar app for iOS and Mac OS
Fantastical by Flexibits is a powerful, feature-packed calendar app that provides users with the tools to stay on top of their schedule. This app makes its users more productive and successful by allowing them to plan their daily tasks effectively and prioritize the most important ones. It supports natural language processing for creating calendars and reminders, an intuitive drag-and-drop interface to quickly add events, location recognition for adding addresses automatically, quick access to favorites, and more.
"This app syncs with all the other apps to keep my calendar updated with all my meeting schedules. This provides a very interactive and nice way to present all the meetings. Being a cross-platform app, this helps me a lot as the calendar and all the tasks are synced on all the devices so whichever device I'm working on I always stay updated with the tasks." via G2
Fantastical Features
Natural language processing for creating calendars and reminders
Intuitive drag-and-drop interface to quickly add events
Location recognition for adding addresses automatically
Powerful Views (DayTicker, Day, Week, Month, Quarter, Year)
Quick access to file and photo attachments
Fantastical Pricing
Free
Premium for $39.96/Year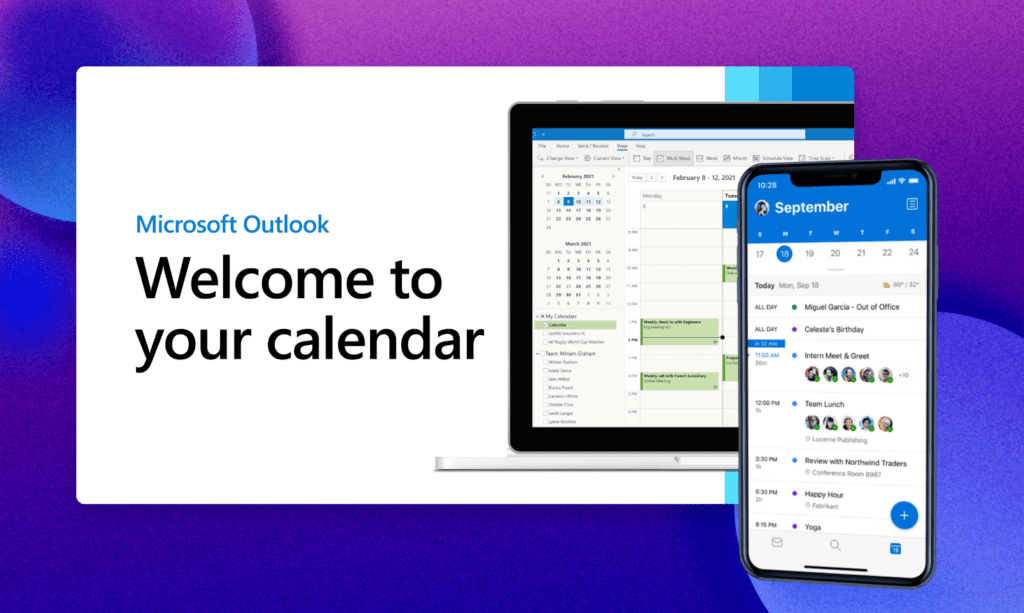 Not just an email app, but also a powerful calendar connected across devices
Microsoft Outlook Calendar offers much more than just a standard email app. With its built-in calendar feature, users have access to a comprehensive suite of tools that can help maximize their productivity. Not only do users get a centralized place to manage and track their tasks, but they also get full access across all platforms, whether it be on their desktop, laptop, tablet or smartphone. Users can set notifications and optimize their workflow while keeping up with their team projects and personal commitments. And with its user-friendly design, Outlook delivers an intuitive experience to carry out all your scheduling requirements.
"Microsoft Calendar is a diverse, influential, and valuable digital calendar option that should work for many people. While it has a few downsides, it still works well for Microsoft users or those who work in large businesses. In addition, even after decades of competition from Google and other companies, Microsoft Calendar remains a strong scheduling option." via Entrepreneur
Microsoft Outlook Calendar Features
Set notifications and optimize workflow
Create group calendars to track schedules
Link to calendars on SharePoint sites
Send calendars via email attachments
Share calendars with specific people
Microsoft Outlook Calendar Pricing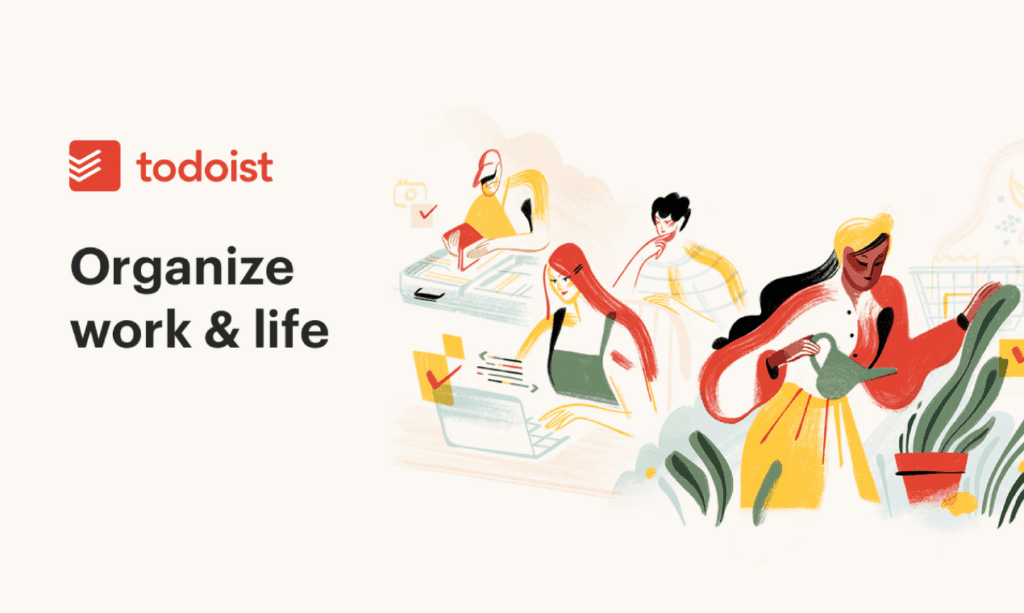 A powerful task manager meets calendar, with features like recurring reminders, subtasks, and more
For those looking for a powerful and intuitive way to manage their tasks, Todoist is the perfect solution. With its sleek user interface, it offers more than just a traditional calendar by allowing users to set recurring reminders, create subtasks, and organize projects with ease. It's an ideal choice if you need an app that helps you stay focused and on track with your daily schedule while organizing important tasks in a modern and efficient way. Whether you're juggling work deadlines or trying to manage any other personal obligations, Todoist can help you plan ahead so nothing gets missed.
"I love that Todoist simplifies and streamlines the task-management process. It is a well-designed app with an intuitive user interface, making managing tasks quick and convenient. Its cross-device sync feature offers easy access to my data from anywhere I go, while its customizable features, like due date reminders and priority markers; make it easier for me to stay organized on top of all my obligations. What makes this app stand out even further is the range of available integrations – allowing us to find new ways every day when creating our lists." via G2
Todoist Features
Personalized task views for a unique style and workflow
Recurring due dates, sections & subtasks for better task management
Priority levels to highlight the day's most important tasks
Notifications so you never miss a deadline or forget an important task
Productivity visualizations to track progress over time
Todoist Pricing
Free
Pro for $24/Year
Business for $36/Year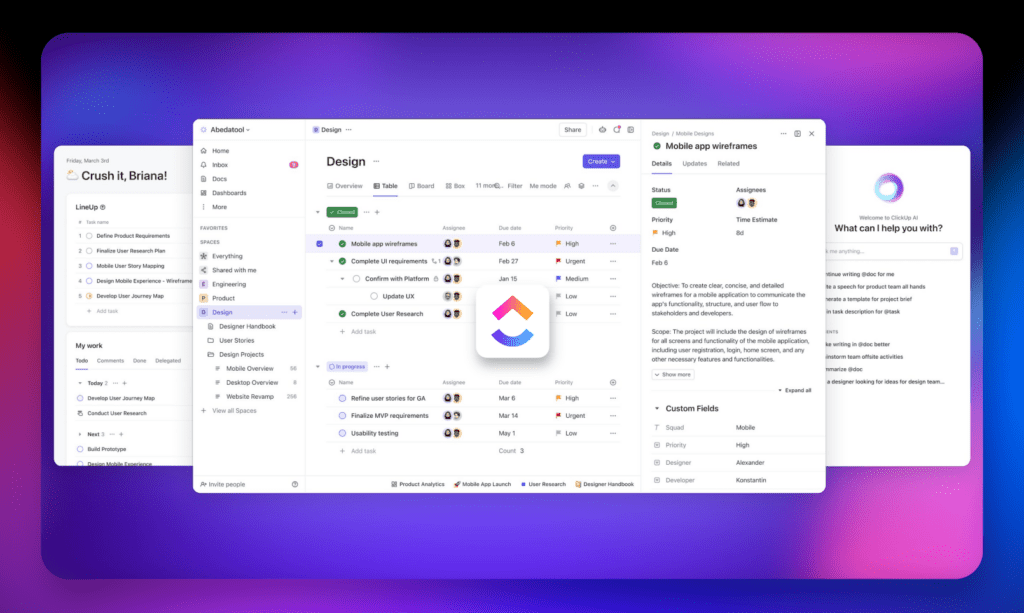 An all-in-one task and project management tool that includes a visual calendar
ClickUp is the best calendar app for those who also need reliable task and project management features. It offers a visual calendar that is easy to use, highly customizable with color-coded tasks, and can integrate with other tools like Google Calendar for increased efficiency. Plus, its filtering feature allows users to focus on specific projects or tasks easily, helping them stay organized and productive. ClickUp also has a range of features including drag-and-drop scheduling, task sorting, priority markers, and more. All these features come together to make it an ideal solution for teams in need of shared calendar apps.
"I am highly appreciative of ClickUp's customizable and user-friendly qualities. Its intuitive and efficient task, project, and document organization capabilities, along with its customizable features, make it ideal for my needs. The added bonus of being available on desktop, iOS, and Android, makes it accessible and convenient to use no matter where I am." – GetApp
ClickUp Features
Easy-to-use interface with a visual calendar
Highly customizable with color-coded tasks for easy organization
Integrates with other tools like Google Calendar for increased efficiency
Collaboration capabilities to keep all team members on the same page
Comprehensive reporting to track progress over time
ClickUp Pricing
Free Forever
Unlimited for $60/Year
Business for $144/Year
Business Plus for $228/Year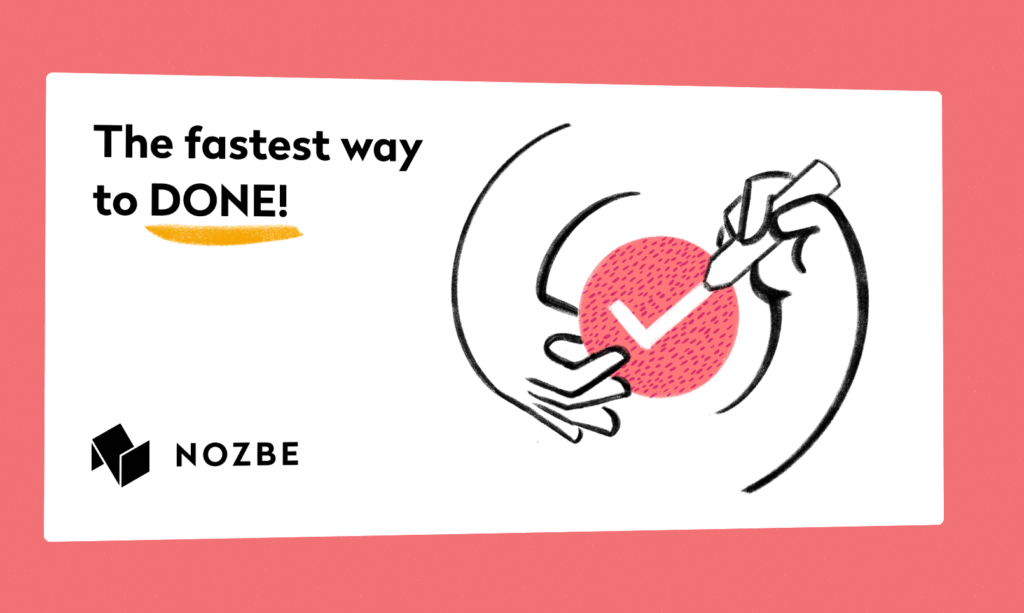 A task and time management app with a built-in calendar and team collaboration features
Nozbe is an ideal choice for those looking to maximize their productivity while collaborating with teammates. It offers a powerful combination of task management and calendar features that helps users plan, prioritize, and coordinate projects effectively. With its built-in calendar, users can visualize their tasks and plan out their days in advance. Additionally, Nozbe supports multiple teams which makes it a great choice for a businesses that need to track progress on projects and collaborate with others in real time. With its intuitive design and powerful features, Nozbe is an excellent choice for anyone looking to stay organized and on top of their work.
"Nozbe allows you to keep on top of every project, even projects shared with others, and to stay on task. Instead of finding an email, text or other communication, everything you need is nested inside of Nozbe. The ability to attach documents from Google or Drop box makes it seamless when working with projects. When you set up the project, you are encouraged to take the "next action" so even if you have 100 steps, you don't feel overwhelmed and continue to make progress." via G2
Nozbe Features
Powerful combination of task management and calendar features
Built-in calendar for viewing tasks due in the coming days
Ability to drag and drop tasks between different dates
Time tracking features to keep track of how much time has been devoted to a task
Supports multiple teams for collaboration
User-friendly interface that makes it easy to learn how the software works
Nozbe Pricing
Free
Premium for $96/Year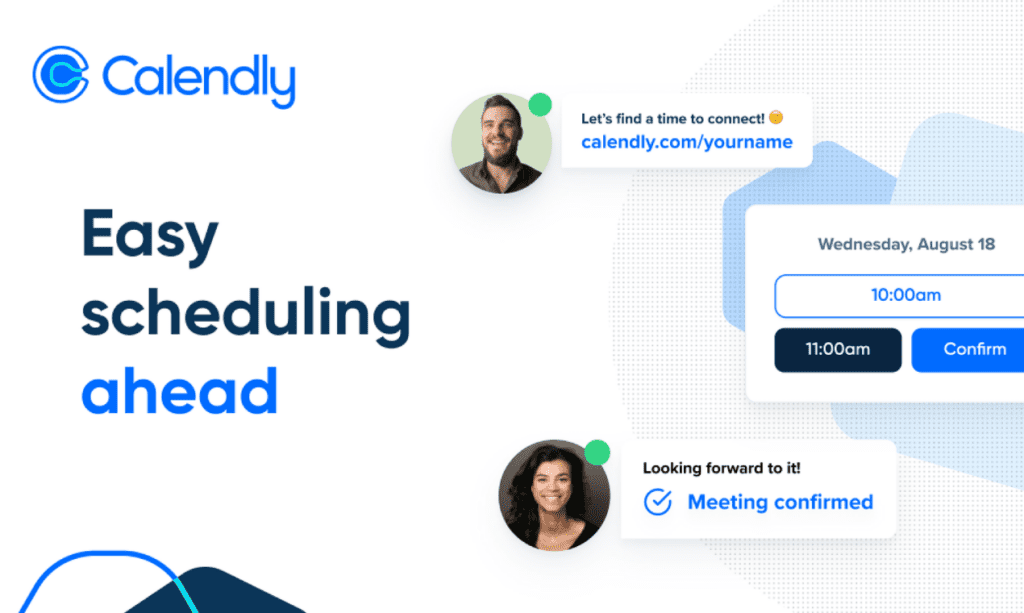 Automates and simplifies the scheduling process
For those looking to streamline their scheduling process at work, Calendly is one of the best options on the market. This calendar app takes the guesswork out of setting up meetings by syncing with other calendar apps like Google Calendar and Outlook, so potential bookers can easily see when you're free or busy. The automated scheduling software is designed to simplify the process of booking meetings and appointments. It connects with multiple calendar apps, allowing users to quickly view their availability and share it with others. Its intuitive design makes it easy for anyone to set up events and manage them, while its powerful features make it a great choice as your future business calendar. Calendly also offers integrations with payments, CRMs and more to help teams save time and stay organized. With its ability to handle complex scheduling at scale, it's the perfect solution for businesses of all sizes.
"Whether you're booking multiple different client meetings or scheduling several intro calls, one of the most time-consuming processes of running a business is trying to find a meeting time that works for everyone. Calendly is a software that streamlines this process. Instead of the back and forth required to find and schedule a meeting, as a business owner, you can simply send your customers or clients a link to your Calendly so they can choose a time at their convenience—and receive all necessary confirmations and reminders automatically." via Forbes
Calendly Features
Automates and simplifies the scheduling process
Integrates with multiple calendar apps, making it easy to view availability
Ability to handle complex scheduling at scale
Provides integrations with other tools such as payments, CRMs and more
Easy to use interface makes setting up events and managing them a breeze
Calendly Pricing
Basics for $0/Year
Essentials for $96/Year
Professional for $144/Year
Teams for $192/Year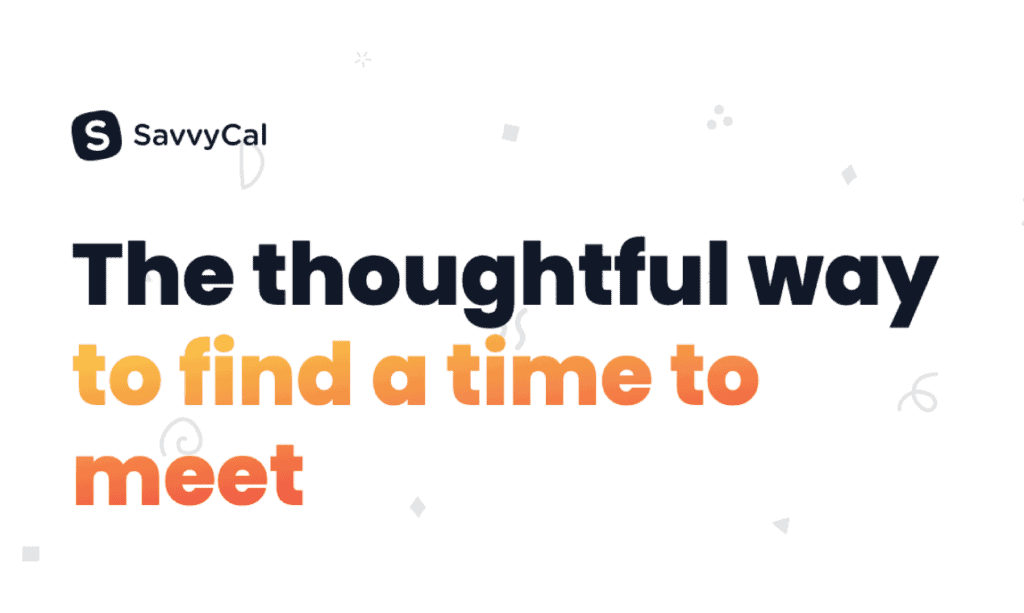 An efficient calendar app that helps users focus on the most important tasks
SavvyCal is an excellent app to help you make the most of your day-to-day schedule. With its advanced agenda view, users can easily manage their daily tasks and to-dos. It also has a powerful drag-and-drop interface so users can quickly rearrange their calendar entries. SavvyCal takes it one step further with built-in automation features that suggest highly productive tasks to focus on. For complex scheduling or team scheduling, SavvyCal offers calendar routing and team scheduling at the click of a button. Whether you're organizing projects for work or managing your personal commitments, SavvyCal is an easy-to-use app that helps make the most of your daily schedule.
"Love the fact that those booking meetings can overlay their calendar to easily find a time. Very easy to make multiple calendar links, and easy to access these when you browser with the new Chrome Extension!" via ProductHunt
SavvyCal Features
Easy to use drag & drop interface for calendar entry
Advanced agenda view for efficient task management
Automation features that suggest productive tasks to focus on
Calendar routing & team scheduling at the click of a button
Integration with other tools such as payments, CRMs and more
Multiple duration & time zone scheduling options available
SavvyCal Pricing
Free
Basic for $120/Year
Premium for $192/Year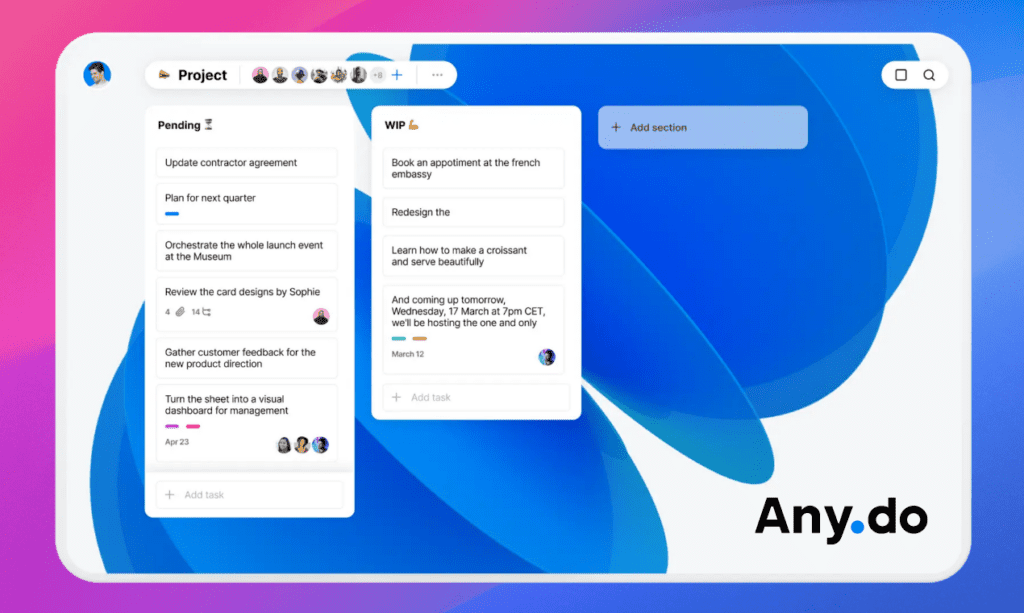 Any.do is the ultimate calendar and task management app, designed to give you complete control over their daily work schedule. It features an intuitive drag-and-drop interface that allows users to quickly arrange tasks and events in a single view. The app also comes equipped with powerful automation features that suggest productive tasks to focus on, and helps users stay on top of their day-to-day activities. Any.do also comes with a homescreen widget to quickly access tasks and events, as well as calendar integration with Google Calendar, iCloud, Outlook and more.
"Any.do is a great app when you are looking for flexibility and convenience. I really like how flexible it is and it is a time saver. The calendar feature is amazing which allows me to accurately plan my days ahead and manage appointments, tasks and to-do lists so I don't miss any deadlines. The interface is simple and intuitive and it has helped me in remaining productive with work in particular although you can manage your personal and work lives using Any.do. Overall I like it and I can recommend it to anyone." via GetApp
Any.do Features
Visually appealing design and intuitive layout
Syncs with other calendars (Google, iCloud, Outlook etc.)
Calendar widgets for iPhone and Android
Group tasks by category or due date
Can be used across multiple devices
Timely reminders so you never forget a deadline or event
Any.do Pricing
Personal for $0/Year
Premium for $36/Year
Teams for $60/Year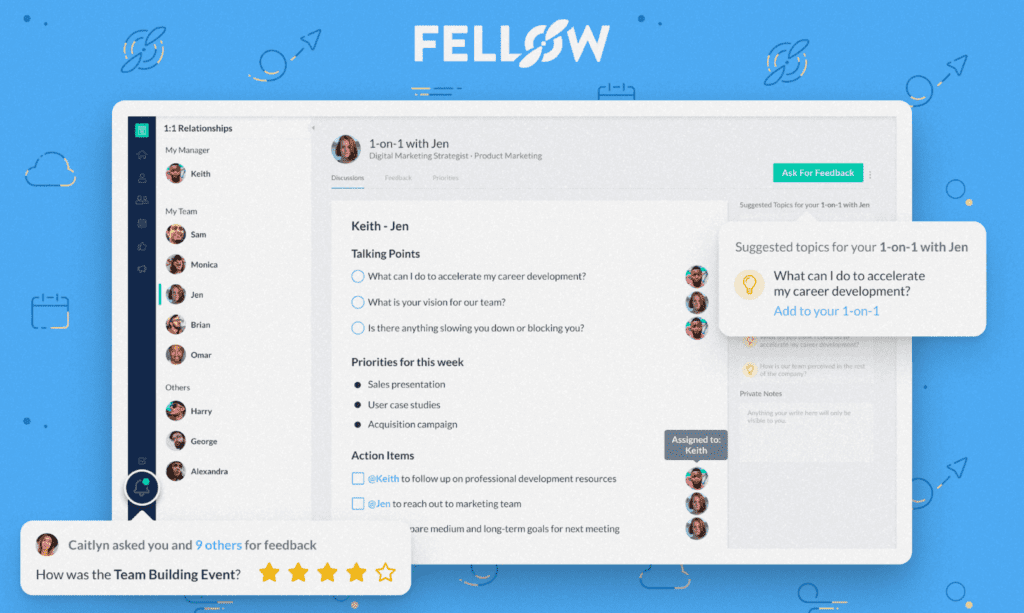 Powerful meeting management tool designed to boost team productivity
Fellow.app is a powerful and intuitive task management tool designed to help teams work smarter and more collaboratively. With features such as collaborative meeting agendas, real-time notetaking, action items tracking and feedback exchange, Fellow offers an unparalleled level of productivity to its users. Whether it's for internal meetings or external collaborations, Fellow provides the tools, guidance and templates to make every meeting successful. Teams of all sizes can benefit from its powerful features, which help facilitate better conversations, drive engagement and enhance collaboration across the entire company.
"Really user friendly, it integrates super well with Google Calendar and makes it super easy to find notes from a specific event and it auto-creates the Fellow notes so you don't have to worry about doing the extra step of creating a meeting notes document every time. It also integrates tasks with Asana which is awesome, I find that I don't use tasks within Fellow as much as I do within Asana after syncing it over. They also have many note template options to choose from so you don't have to worry about formatting. Lastly, the customer service has been amazing at Fellow and they are always helpful with any issues that may arise." via G2
Fellow.app Features
Allows teams to build collaborative meeting agendas
Makes it easy for admins to suggest talking points
Provides templates that streamline the process of creating an agenda
Tracks action items and accountability
Facilitates feedback exchange amongst team members
Enables users to bring external parties into meetings easily
Helps teams measure performance and review outcomes
Fellow.app Pricing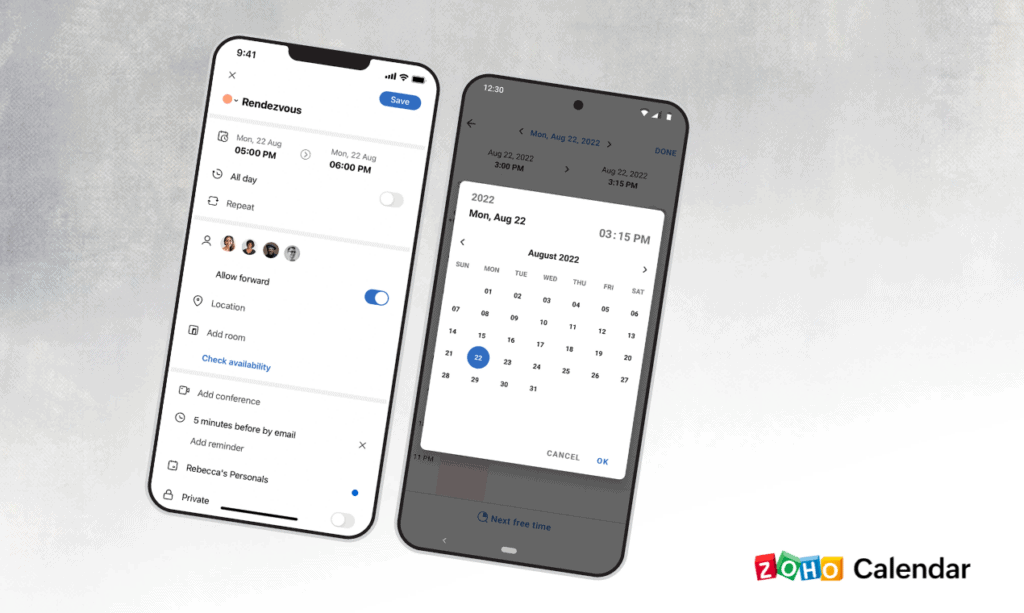 An intelligent calendar app to keep everyone on the same page
Zoho Calendar is an excellent choice for teams looking to maximize their productivity and organize their tasks. It is a cloud-based calendar application designed to make scheduling easier and faster. Zoho Calendar allows you to manage events, group calendars, invite users, and share calendars with ease. You can also use the integrated resource booking feature to book conference rooms easily. With its integration with Google Calendar, Microsoft Outlook Calendar, and Zoho's other products, you can easily sync all your events and calendar data across multiple devices which makes it a popular choice among the shared calendar apps. You can also download the Zoho Calendar mobile app to keep track of your appointment schedules on the go.
"We have to schedule many meetings with various faculties and different students on regular basis, so the Zoho calendar works great for us. It allows easy scheduling of our meetings, and it can be used as a collaboration tool. It also allows us to save our personal reminders, like Friend's Birthday, Anniversaries, etc. along with the professional schedules" via TrustRadius
Zoho Calendar Features
Easy to use with a clean and simple interface
Multiple calendar views that are customizable
Automate notifications, reminders, and follow-ups
Integrates with other Zoho and third-party applications
Resource Booking feature for booking conference rooms
Mobile app available for iOS and Android
Zoho Calendar Pricing
Free
Standard for $36/Year
Pro for $72/Year
Enterprise for $120/Year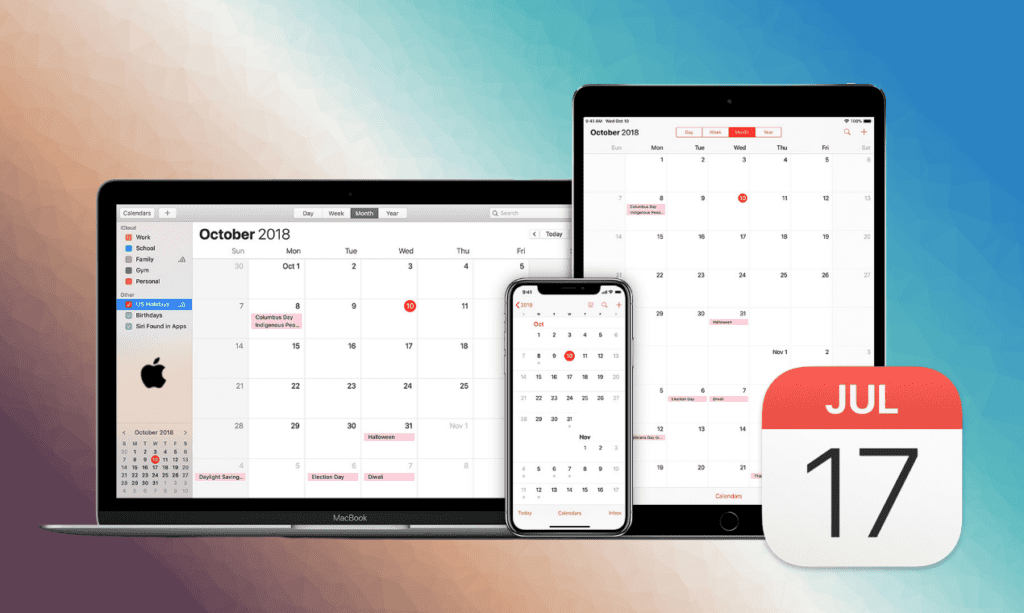 A powerful calendar app for Apple users
If your hardware and software already run on Apple, then the iCloud Calendar may be the best choice for you. It is a great online calendar app that allows users to easily organize their meetings, events, and appointments in style. The intuitive UI makes it easy for even novice users to get up to speed quickly. With its integration with iCloud, you can access your iPhone calendar from any Apple device with the same data. It also integrates with other apps like Contacts, Reminders, and Photos to easily add events from them. The 'Share Calendar' feature allows you to collaborate with others on your calendar quickly and easily. With its 'Calendar Alerts' feature, you can set a reminder for an upcoming calendar event or task.
"Apple iCloud Calendar (iCal) is great for managing appointments. It is especially helpful when it comes to making changes and resetting calls/meetings for the future. Working with software demos to clients, we commonly see last minute reschedules and this makes the process seamless. The zoom integration is key for us to automate meeting links being generated and included." via TrustRadius
Apple Calendar Features
Great native Apple UI and easy to use
Integrates with iCloud, Contacts, Reminders, Photos
Share Calendar feature for collaboration with others
Calendar Alerts allow you to set reminders for upcoming events and tasks
Available on both Mac and iOS devices
Apple Calendar Pricing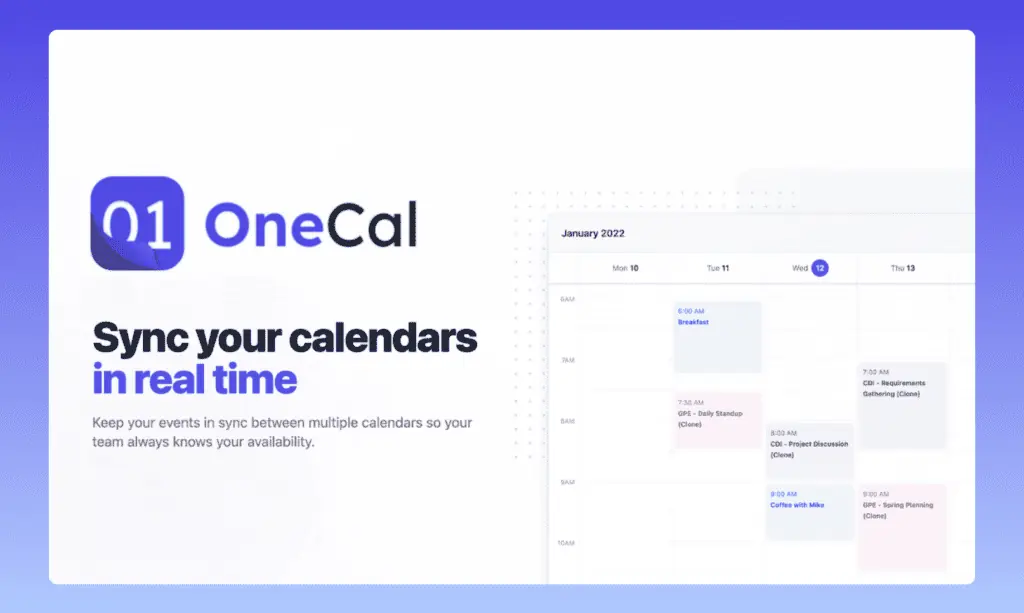 Advanced calendar sync software to stay organized
OneCal is a simple and secure calendar synchronization tool that helps you keep your calendars in sync across multiple devices. It offers real-time updates, one-way or multi-way syncs between 2 or more calendars, team plans for organizations to use OneCal together, fully configurable options to decide which events should be synced over and privacy-focused features. It also has a simple and intuitive user interface, making it easy to set up your calendars in just a few clicks. With OneCal, you no longer have to worry about manually updating or transferring events across different devices – simply connect your calendars and let OneCal take care of the rest.
"Setup is very intuitive, synchronisation is fast, user interface is clean, and pricing is decent. This is a must-have productivity tool when working with multiple calendars." via ProductHunt
OneCal Features
Real time updates and sync of calendars to multiple devices
Fully configurable options for an event creation
Privacy features to keep your data secure and private
Simple and intuitive user interface, making it easy to set up in just a few clicks
OneCal Pricing
Basic for $36/Year
Essential for $100Year
Premium for $300/Year
All in all, managing our calendars doesn't have to be a daunting task. There are dozens of calendar apps that can help us streamline our tasks and keep us organized. From Google Calendar with its powerful suite of features to Fantastical's sleek UI and deep integration with other apps, you're sure to find something that meets your needs. And if you're into task management, don't forget about Pocket, Microsoft Outlook or Todoist—all of which can turn reminders into detailed tasks with one click! Whatever solution you choose for your daily life organization, there is an app for it. Are you looking for a universal solution? No problem—you could integrate multiple calendar apps with one another and create the ultimate hub to manage your time better.